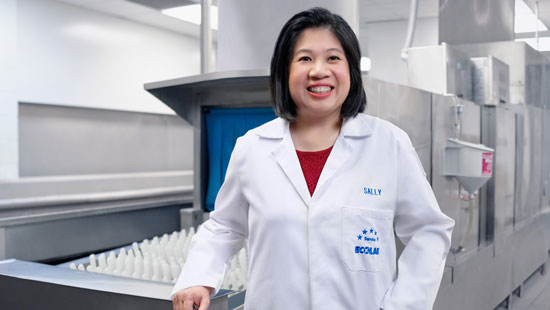 Service
From the beginning, a strong commitment to customer service defined and differentiated Ecolab. Round-the-clock service provided by trained service representatives, combined with top-quality, innovative products, has been key to the company's success.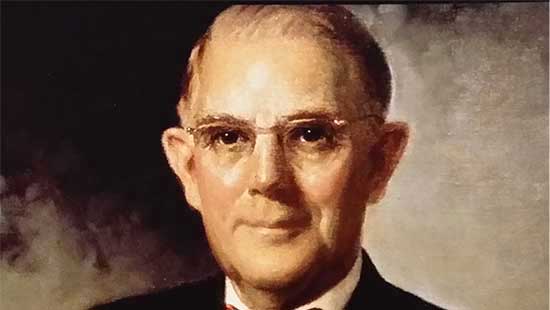 M.J. Osborn makes serving the customer a top priority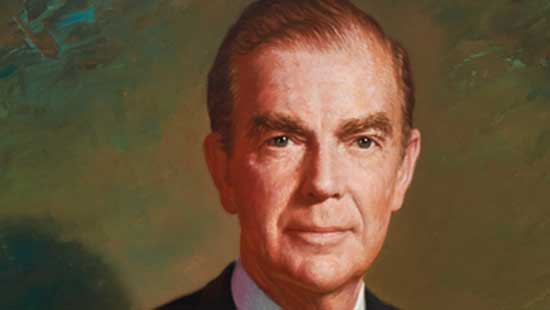 E.B. Osborn, "father" of the company's service culture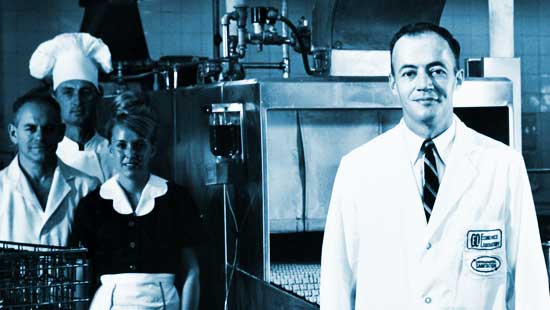 E.B. eventually established a "systems" approach to customer service that was unique in the industry. As reported in a brochure celebrating the company's 50th year, E.B.'s service approach included five steps:
Providing technically trained specialists who understand the customer's industry and his specific production methods.
Thoroughly analyzing the customer's cleaning/sanitation needs in relation to his total operation.
Designing for each customer an individualized cleaning/sanitation plan, including selected products and dispensing equipment, procedures and employee training – which will achieve optimum results considering all environmental and cost factors.
Providing customers with a regular follow-up and preventive maintenance service to assure uniform and consistent quality results.
Keeping customers up to date on the latest advances in cleaning/sanitation technology through a network of trained specialists worldwide.
Through this approach, E.B. transformed salesmen into "dishwashing consultants." They not only sold detergents, but also fixed and maintained dishmachines, trained kitchen employees in how to use them, analyzed washing procedures and recommended ways to minimize breakage.
The basic approach that E.B. outlined continues to guide sales training and customer service across all Ecolab businesses. However, today, new digital technologies also are enabling sales and service representatives to deliver better, more responsive service to their customers, often even alerting them to issues before they are aware of them.
E.B. recognized that service roles were not a good fit for everyone. Service, he said, "involves an 'attitude' that is fostered by emphasis, teaching and monitoring, but more basically is inherent in the people who are attracted to our company by the reputation for service we have earned. This spirit and attitude of service is rare."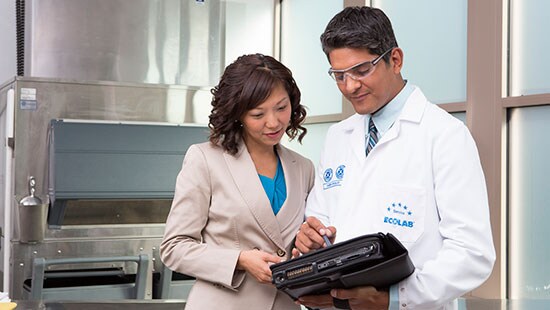 The Ecolab sales and service force
Growth of the Sales and Service Team
| Year | Team Members | Year | Team Members |
| --- | --- | --- | --- |
| 1950 | 100 | 2010 | 14,500 |
| 2000 | 10,280 | 2011 (Nalco acquisition) | 22,500 |
| 2001 | 10,720 | 2012 | 32,200 |
| 2002 | 11,410 | 2013 | 25,000 |
| 2003 | 11,685 | 2014 | 25,000 |
| 2004 | 12,280 | 2015 | 25,000 |
| 2005 | 12,910 | 2016 | 25,500 |
| 2006 | 13,430 | 2017 | 26,000 |
| 2007 | 14,110 | 2018 | 27,000 |
| 2008 | 14,450 | 2019 | 27,500 |
| 2009 | 14,300 | 2020 | 25,200 |
Whew! We Ecolab white service coats take a beating. On and off, again and again. Many days not even a lunch break. Some nights, snatched off the chair to go fix a dishmachine so a customer can keep operating.
Yet, it could be worse. We could be working in a hospital – just another non-descript white coat.
Of course, we are doctors in our own way. People sometimes call us "Dishmachine Doctor" although we prefer "Doctor of Environmental Sanitation." 
Yes, we diagnose dishmachine ailments – and all sorts of other things. We make sure our customers sanitize properly, train their staff in floor cleaning, solve stain problems in the laundry and reduce their water and energy use. They look to us for monthly check-ups. And when they have an emergency, we're by their side. When they need us, we're there.
We go everywhere, greeting customers, looking crisp, clean, professional and delivering "white coat" service (even better than "white glove" service.) We hold nuts and bolts, washers and screws in our pockets, and protect Ecolab professionals from dirt and grease (as best we can). The other day, one of our five-snap colleagues put out a small kitchen fire.
Our job may be exhausting, but we love it. We're respected. And people are always glad to see us.
Everyone knows legends are not made overnight. It takes years of doing something 'legendary,' like providing customers a consistently great experience. That's exactly how the Legend of the White Coat was written.
It began many years ago with our founders. They set their sight on building a company that would offer great products and dependable, professional service.
As the company dispatched talented professionals to take care of customers, it seemed that these experts deserved a powerful symbol – something that would set them apart and stand for what they represented: true cleaning and sanitation expertise and a commitment to "do the best thing for the customer, always!"
So began the legend of the White Coat.
When customers saw the Ecolab White Coat coming, they knew their current problems would be solved and future problems anticipated. They knew they would receive the best products, technology and service – that Ecolab could provide answers to most any question.
Customers also saw teamwork and camaraderie among the White Coats. When a problem or installation was too big for one, other dedicated White Coats lent a hand.
So let me close by asking you a question.
Does your White Coat send a message of professionalism each day – each call?