A History of Innovation
From the start, the goal of innovation at Ecolab has been to solve customer problems through the powerful combination of sound science and on-site, expert service.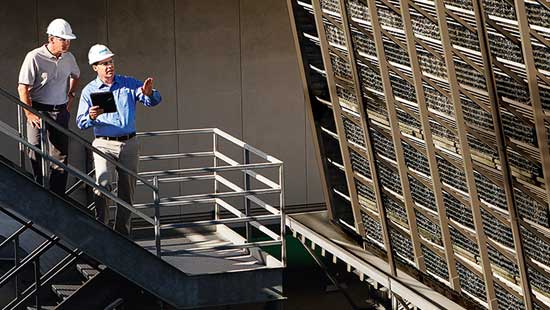 Innovation Overview: 
From Chemistries to Comprehensive Solutions
The journey leading to Ecolab's comprehensive approach to innovation:
Began with a chemistry formulation designed to clean carpets, then advanced to liquid formulations;
Continued with dispensing devices designed to reduce customers' exposure to chemistry and improve cost and performance by consistently delivering the correct product dose;
Advanced with packaging, including closed-loop systems designed to safely deliver the chemistry and product during transport and use, and through such packaging features as color- and shape-coding to help ensure that customers always use the correct product.
Moved forward with more advanced dispensing and control technologies, including:

Solid detergent blocks that make handling and dispensing cleaning and sanitizing chemistries safer and easier
Meters and controllers that accurately measure chemical concentrations to ensure they meet performance specifications
Ergonomic designs to improve ease of dispensing as well as compliance with best cleaning practices
New technologies, including sensors, 'tracer' chemicals and controllers that, together, measure and monitor real-time chemical concentrations – and can automatically dose chemicals as required.

Applied digital monitoring and advanced data analytics to help customers – and the Ecolab service teams who call on them – "see" inside their processes, determine if they are working according to specification and identify steps to improve results, increase operating efficiency, lower costs, save water and energy and extend asset life. The value of these steps is documented and shared with customers through online dashboards and Ecolab's eROI™ case studies.
Over the years, across the company's global innovation centers, Ecolab's scientists and engineers began to apply a "systems" approach to new product development. Not only did they focus on designing effective chemistries, they also worked to advance manufacturing, packaging, dispensing and monitoring of the chemistries. The company's innovators also developed tools and systems to help Ecolab sales and service representatives serve their customers more effectively and efficiently.
Innovation That Leads To Impact
Holding more than 8,700 active patents globally in 2018, Ecolab has developed thousands of products, many featuring innovations in one, or more, of the following areas:  
Chemistries: leveraging chemistries that are effective with less water and energy and that lower environmental impact across many industries and customer needs.  
Packaging: generating less packaging waste and reducing transport costs and energy, while providing products that are safe and easy to handle.  
Manufacturing: investing in manufacturing innovations that support the efficient and cost-effective production of new formulations and product forms, such as concentrated liquids and solids.  
Dispensers/controllers/sensors: providing customers with increasing levels of safety, control and greater insight into the amount of Ecolab products used during their processes, as well as how equipment is performing. These insights enable customers to address issues that can impact performance. 
Digital technologies: combining digital technologies and data analytics with products and services to provide customers visibility into their operations, as well as actionable insights to guide improvements that will positively affect quality and performance.
1920S–1970S Innovation: Cleaning, Dispensing and Service
1923  Absorbit™, a powdered cleaner for hotel carpets, provides a way to clean guest room rugs quickly without removing them. Previously, hotels sent rugs out for cleaning, closing rooms to guests (and losing revenue) for 10 to 14 days. 

1924  Soilax™, a formulation for "new" commercial dishwashing machines, improves cleaning results compared with other dishmachine soaps, controls chemical release and results in less wasted product. Soilax is a powdered detergent, pink in dry form, green when mixed with water in the proper proportion and yellow when the solution is too strong.  

1926  EL receives its first patent, for Floroscene, a concentration indicator for Soilax.  

1928  First detergent dispensing system for use with new commercial dishwashing machines helps ensure the right amount of detergent is used. 

1930s
MikroKlene™, a powerful germicidal dishwashing rinse, is used to help sanitize milk cans and glasses. The most heroic claim of MikroKlene, however, is helping reduce the risk of dysentery for soldiers in World War II. Soldiers dipped their mess kits in a MikroKlene solution to reduce harmful pathogens, helping to prevent illness and save lives.  

1963  Score™, a liquid commercial cleaner combining chlorine and high-strength alkali and polyphosphates, provides better cleaning results than the powdered detergents it replaces.
1976  The Guardian™ System for institutional warewashing consists of highly concentrated powdered detergents and a dispenser with solid-state electronic controls for accurate dispensing.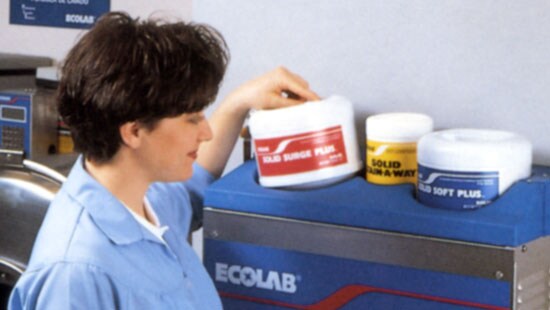 1980S–1990S Innovation: Pioneering Leadership
Early 1980s 
TriStar™ L 2000 liquid laundry detergent is the company's first emulsion, high alkaline, one-shot, laundry-formulated detergent to effectively remove oily stains.  

1981  Solid Power™, a pioneering chemical warewashing formulation in solid (instead of liquid) form, packaged in a capsule, can be easily inserted in a warewashing dispensing system. Solid Power provides added convenience and safety in handling dishwashing chemistry and reduces packaging waste (the capsule replaces large plastic containers used for shipping liquids.) The solid blocks take up less cargo space than drums used for liquid detergents, reducing total energy required for transport and related greenhouse gases. 

The success of solid chemistry begins a new era in Ecolab innovation in which scientists and engineers also consider new forms of chemistry, packaging, manufacturing methods and automated dispensing, as well as the chemistry itself. Among the "solids" products for institutional customers that follow Solid Power are:
Vanguard™, in the early 1990s 
Geosystem™, in the early 2000s 
Apex™ in 2007 
Solid Power™ NP in 2010
Apex™ 2 in 2012 
SMARTPOWER™ in 2017
1985 Ecolab's Research, Development & Engineering facility in Eagan, Minn., becomes the first U.S. Department of Transportation (DOT)-certified lab to conduct packaging self-certification for the transportation of hazardous materials in the U.S. In 1990, the laboratory also becomes the first United Nations (UN)-certified lab to conduct testing and self-certify packaging in compliance with United Nations hazardous materials packaging principles

1990 Oxonia Active™, an antimicrobial treatment for disinfecting hard surfaces, uses highly effective peroxyacid chemistry. The product launches Ecolab's leadership in antimicrobial chemistries based on peracids, in this case to treat fresh meat, poultry and fruits and vegetables and help food and beverage processors prevent outbreaks of foodborne illness. Over the decades, the company applies peracetic acid to solve problems across other sectors, including textile care and energy development. Products developed after Oxonia Active with innovative peracetic acid chemistry include:
Food and Beverage
Early 1990s Mandate™  
Early 1997 Matrix™
1997 Vortexx™ 
1997 Tsunami™ 
2001 Inspexx™ 
2009 Oxy-Sept™ 333  
2016 Synergex™  
Institutional
Textile Care
1998 AdvaCare™ 120
2004 PERformance™
Healthcare
2013 OxyCide™ Daily Disinfectant Cleaner
Energy
2015 Nalco Champion solution to reduce corrosion-producing bacteria in oil wells
2016 Nalco Champion BIOC16734A biocide
1992  Oasis™, a complete system that includes a line of cleaning products for the housekeeping market in color-coded liquid concentrates with multi-language labeling and pictorial icons, as well as a closed-concentrate, on-site dispensing system that provides safe, ultrafast dilution and mop bucket filling. Oasis continues to reflect Ecolab's commitment to safer systems for delivering concentrates as well as reduced packaging waste. 

1993  Vanguard™, a system that combines solid chemistry and a controller to monitor dishwashing processes. It also features lower phosphate levels than Solid Power and chlorine added for stain removal. 

1997  Tsunami™, a peracetic-acid based product for virtually eliminating pathogens in fruit and vegetable wash water in processing plants. Tsunami chemistry is paired with the Tsunami Control System, which monitors and consistently controls product in wash water systems.  

1997  Geosystem™, a non-corrosive, safer detergent formulation with lower levels of phosphates and less packaging waste. Special formulation for Asia Pacific and Latin America is called Evolution™. The program is marketed in Europe as EcoPlus™ Future: Solid Hydro™, Solid Hero™ and Solid Mega™.
1997  Vortexx™, a hard-surface peroxyacid solution used for continuous or intermittent conveyor belt treatment during food and beverage production and in treating surfaces in cold sterile (aseptic) packaging processes.  

1998  AdvaCare™ 120, an antimicrobial treatment for sanitizing healthcare and other linens in cold temperature wash. 
2000-2009 Innovation: Optimizing Across Industries
2000 Victory™, an EPA-registered peracetic-acid based solution for treating fruits and vegetables in processing plants. Produce washed in a Victory solution does not require a water rinse because, when used in the recommended concentration, Victory leaves no residue effects. A patented dispensing system automatically dilutes the product to the proper concentration for maximum effectiveness and consistent results.
2001 Inspexx™, a U.S. Food & Drug Administration-approved antimicrobial surface treatment to reduce pathogens on red meat and poultry.
2004 Wash 'n Walk™, a pioneering floor cleaner combining enzymes with traditional cleaning agents to digest grease that can be slippery underfoot. It eliminates the need for rinsing, thus reducing water consumption by 90 percent and reducing the risk of employee slips and falls.
2004 PERformance™, a textile care formulation that increases energy efficiency by lowering the required temperature for effective oxygen bleaching in commercial laundries.
2006 DryExx™, a dry lubricant that helps move glass packaging on conveyors in the beverage, brewery and food processing industries. DryExx reduces water use on conveyor lines by as much as 97 percent and lowers the risk of slips and falls on wet floors.
2007 Apex™, a comprehensive warewashing program consisting of cleaning and sanitizing products and a controller for monitoring dishmachine performance, helps customers track key performance metrics. The program sounds alarms when dishmachine controls need to be adjusted and provides other actionable information to help save water, energy and labor while ensuring wash performance. Apex is named Kitchen Innovation of the Year by the National Restaurant Association in 2011.
2009 Oxy-Sept™ 333, an antimicrobial disinfectant used in hatcheries, formulated to address sources of cross contamination, including boots.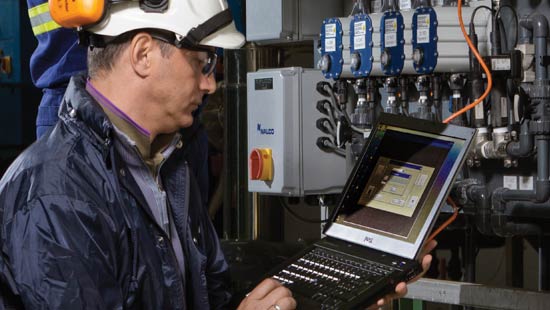 2010-2020 Innovation: Technology and Information Synergy
2010 The EnCompass™ Environmental Hygiene program helps hospitals improve the cleanliness of patient rooms, reducing the risk of infections by instituting standardized processes and training and providing objective monitoring and automated reporting. It includes DAZO™ fluorescent marking gel for monitoring surface cleanliness and a mobile app for easy tracking and real-time reporting of environmental hygiene results. The process minimizes the amount of water used for cleaning and disinfecting by 80 percent.

2010 Solid Power™ NP, a super-concentrated chemistry that is "phos-free," saves shipping and packaging costs and lowers environmental impact. Marketed as Solid Power™ XL in Europe.

2010 The 360° Xplorer control system for kitchens wins the bronze medal in the 2010 Dr. Georg Triebe Innovation Awards in the sustainability and efficiency category. Sponsored by the German Association of Professional Kitchen Planners, the awards are announced every five years for outstanding product, service and process innovations for commercial kitchens in Europe. The 360 Xplorer is a web-based system that captures data on warewashing factors, such as water temperature, pressure, dish machine utilization, as well as energy and water consumption. The data is used by Ecolab sales and service teams to help customers optimize warewashing performance and reduce total operational costs.
2011 Ecolab acquires Nalco. Nalco brings a significant innovation history in water treatments for industrial and energy customers. See the Nalco Innovation History below for an overview of major innovations gained through the 2011 acquisition of Nalco.

2011 Excelerate™ ZTF (zero trans-fat), a cleaning program developed in response to changing diets that helps remove the stubborn residues of healthier zero trans-fats oils from kitchen surfaces. Cleaning time is cut in half, freeing labor for other tasks. Excelerate ZTF gains recognition for Ecolab as one of just four companies awarded the 2011 Institute of Food Technologists Food Expo Innovation Award.

2011 Ecolab receives its first recognition on Forbes magazine's list of "The World's Most Innovative Companies," ranking 33rd out of 100 companies. The company is also named to the list in 2012, 2013, 2014 and 2018. Also, Ecolab receives the Minnesota High Tech Association's Tekne award honoring Minnesota companies that contribute groundbreaking technologies that improve lives.

2011 Envirocid™ Plus, a new acid detergent that helps dairy processing plants manage their effluent and operating costs while improving sustainability, is recognized as the winner in the first annual Innovations Awards presented by the International Dairy Foods Association.

2011 The Ecolab Cleaning Caddy, a cleaning system that brings together pre-measured product dispensing, a pressure spray wand, an on-board wet vacuum and a rechargeable battery within a footprint similar to that of a standard mop and bucket, is awarded the National Restaurant Association's Kitchen Innovation Award.

2012 APEX™, a green alternative for paint detackification using innovative chemistry, is launched to automakers and other manufacturers. For decades, hazardous colloids were used to detackify paint overspray in spray booths. The APEX program completely eliminates formaldehyde and other harmful, nonrenewable raw materials. It reduces total costs of operation, chemical use, the generation and transportation of wastes, water use, and emissions of volatile organic compounds (VOCs). Paired with Ecolab's Ultimer™ polymer technology, a winner of the Presidential Green Chemistry Award, it delivers an industry-changing solution to paint-spray booth operations.

2012 Nalco Water introduces advanced hybrid technology for enhanced retention, drainage and overall machine efficiency to the paper industry.

2012 and on
Chemistries to aid energy extraction. Ecolab's acquisitions of Nalco (2011) and Champion Technologies (2013) add a new category – oil and gas – to the company's menu of chemistries. Generally, the chemistries help oil and gas companies meet three challenges:
Improve oil recovery in unconventional oil fields, such as oil sands and shale. Solutions include:

2013 A broad matrix of well stimulation fluids customized to perform in wells with varying bottom-hole temperature demands.
2013 and 2017 Novel treatments that allow customers to rapidly achieve peak production, enhance hydrocarbon production and sustain well decline characteristics.
2014 Treatments with improved emulsion control that enhance oil extraction in Steam Assisted Gravity Drainage (SAGD).
2014 and 2015 Programs to reduce drag losses in brine liquids flowing in pipes using "produced water," which is water returned to the surface during hydraulic fracturing.
2015 Viscosity management treatments that enhance production and transportation of heavy oils, an increasing concern as production from unconventional sources grows.

Protect operations in extreme production environments, such as deep well. Solutions include:

2014 and 2016 Anti-agglomerates and kinetic hydrate inhibitors to facilitate production in offshore applications in the Gulf of Mexico, deepwater applications and other oil-producing regions.

Enhance operational safety and extend asset life. Solutions include:

2015 A highly effective peracetic acid biocide treatment that penetrates and removes biofilms, protecting infrastructure and reducing well souring.
2016 Next-generation hydrogen sulfide scavengers.
2017 New corrosion inhibitors that improve operational safety.
2012 and on
Innovations for the paper industry improve paper makers' production efficiency and enhance the end-use performance of their products:
2014 UltraPositek™ 9000, a high-solids, high-efficiency colloidal silica for improved drainage, leading to enhanced machine productivity.
2014 Metrix Bull, a high-performance strength program for board grades in China that allows use of lower-cost fiber.
2014 Early Warning Chatter Detection for Yankee Dryers in tissue production, a monitoring tool to support asset protection and machine efficiency.
2015 New coating package for structured tissue and towel grades, leading to improved sheet quality and machine efficiency.
2015 FillerTEK™ equipment and chemistry enhancement for fiber substitution in graphics and white top board grades.
2012 and on
New technologies for the mining industry to protect customer operations, while enhancing ore extraction operation efficiency:
2012 and 2016 HyClass™, a product line targeting hydrate classification in alumina production.
2013 and 2017 RRX™ red mud flocculants, which improve solid liquid separation in alumina production.
2015 and 2017 COLLECT-ORE™ collectors and FROTH PRO™ frothers, new product lines for base metals mineral flotation.
2017 SCALE-GUARD™ scale inhibitors for phosphoric acid evaporator systems, designed to help protect against mineral scale build-up.
2017 Mining Optimizer predictive software for analyzing water-scaling potential, allowing Ecolab teams to identify areas of potential scale build-up and recommend appropriate control strategies.
2012 Apex™ 2, an enhancement of Ecolab's Apex warewashing program with an intuitive dishmachine monitor that collects information and provides foodservice operators greater control over warewashing results and total costs. Key metrics automatically monitored include wash and rinse temperatures, detergent levels and wash-tank change outs. Actionable alarms tell staff what needs to occur to maintain peak washing performance.

2012 Prep-n-Print™, a comprehensive food rotation program in an intelligent, portable, self-contained printer, stores and calculates shelf-life information and prints labels on demand in multiple languages.

2012 Ecolab is presented two National Restaurant Association/Kitchen Innovation Awards, one for ActiveView HDI technology; the other for the STEALTH® Fly Station. ActiveView HDI gathers data from local health department inspections and standardizes and delivers it to customers via online customized reports and alerts. When positioned on the exterior of a building, the STEALTH Fly Station helps prevent flies from gaining entrance into restaurant kitchens. A subsequent advancement using LED bulbs – the STEALTH LED Fly Light – is awarded the Kitchen Innovation Award in 2017.

2013 Ecolab acquires Champion Technologies, which has an industry-leading position in innovative specialty oilfield chemistries.

2013 OxyCide™ Daily Disinfectant Cleaner, a one-step solution for general hospital cleaning, disinfecting and deodorizing of hard, nonporous surfaces. It is proven effective against hard-to-kill Clostridium difficile, or C. diff, spores.

2013 Aquanomic™ Low-Temp Laundry System for on-premise laundries combines innovative wash processes and innovative chemistry to effectively clean at water temperatures of 140° F instead of the traditional 180° degrees. The system reduces water and energy consumption by up to 40 percent while providing clean, white, soft linens. Aquanomic is awarded the Cleantech Tekne Award from the Minnesota High Tech Association (MHTA).

2013 Ecolab receives a Tekne award from the Minnesota High Tech Association for Hydris™, a system that combines water, electricity and natural minerals with patented electrolytic cell technology to produce affordable and sustainable cleaning, sanitizing, and disinfecting solutions for large public and commercial facilities.

2013 Antimicrobial Fruit and Vegetable Treatment (AFVT) helps reduce the risk of foodborne illness outbreaks due to ineffective produce washing in foodservice operations. It is the industry's first no-rinse produce wash to earn both U.S. Environmental Protection Agency (EPA) registration and Food and Drug Administration (FDA) clearance. Ecolab is awarded a Minnesota High Tech Association Tekne award in 2014 for AFVT.

2013 eVerified™ ASP560, an environmentally friendly additive for hydraulic fracturing fluids, is developed to replace more hazardous conventional technologies. It is awarded a 2013 Presidential Green Chemistry Award by the U.S. Environmental Protection Agency. In addition, Ecolab's improved formulation of the oxidizing biocide peracetic acid (PAA) for use in hydraulic fracturing receives a Tekne award from the Minnesota High Tech Association.

2014 Next-generation PURATE™ chlorine dioxide (ClO2) technology for water treatment and other industrial applications. The technology makes on-site ClO2 antimicrobial generation simple, reliable and cost effective. ClO2 is used as a bleaching agent in paper manufacturing, and in public water treatment facilities to make water safe to drink.

2014 Ecolab's improved formulation of the oxidizing biocide peracetic acid (PAA), for use in hydraulic fracturing, receives a Tekne award from the Minnesota High Tech Association.
2014 The Water Risk Monetizer, the first online, no-cost financial modeling tool to help companies assess the true value of water and the risk of water scarcity to their operations. Enhancements to the tool are made in 2015 and 2017.
2015 LmENTARY, a cleaner and sanitizer formulated to reduce steps needed to clean floors and drains with less water, is introduced to retail delis and grocery stores.

2015 DrySan™ Duo, an EPA-registered technology providing the first no-rinse cleaner and sanitizer for dry- or low-moisture processing environments, earns Ecolab the 2015 Institute of Food Technologists (IFT) Food Expo Innovation Award.
2015 Sanitizing Wash 'n Walk™ No-Rinse Drain and Floor Cleaner/Sanitizer, an EPA-registered enzyme-based formula that cleans all soil types, including organic grease, fats and oils, helps reduce risks of staff slips and falls while killing 99.9 percent of pathogens.

2015 Enhanced 3D TRASAR™ Technology for Cooling Water, featuring an upgraded interface and more advanced processing capabilities, helps customers efficiently manage more complex cooling water systems – in real time. Developed in 2004 by Nalco prior to its 2011 acquisition by Ecolab, 3D TRASAR™ Technology automatically detects, determines and delivers the appropriate chemistry to ensure improved scale, corrosion and microbiological control in cooling systems. It also helps customers save water, energy and labor, while helping extend asset life. Subsequent 3D TRASAR Technology innovations include applications for boilers, membranes and other water management challenges. See A Brief History of 3D TRASAR Technology.

2015 3D TRASAR™ Technology for CIP, the first application of 3D TRASAR technology in the food and beverage sector. It combines Ecolab's cleaning and sanitizing chemistries with automated monitoring and reporting technologies and is designed to improve manufactured food quality and profitability, as well as increase water, energy and labor savings in dairy and other beverage operations. 3D TRASAR for CIP employs new cleaning chemistries and sensors that collect continuous data on factors such as concentration, flow, temperature, and valve position that is analyzed to improve operations.

2015 Ecolab is awarded a Minnesota High Tech Association Tekne award for its Dairy Quality Enhancement Program (QEP), a cleaning and sanitation program that addresses quality issues stemming from biofilm contamination in processing equipment.

2016 Synergex™, a U.S. EPA-registered, mixed peracid sanitizer and disinfectant, helps food processers improve product quality, plant productivity and worker safety while supporting their sustainability goals. Synergex helps reduce day-to-day process variability of fresh milk by up to 40 percent while increasing days of quality assurance by up to 15 percent. It is a traceable chemistry that can be used with Ecolab's 3D TRASAR™ Technology for CIP to more accurately measure compliance with quality standards, optimize water and energy use, optimize line efficiency and reduce waste.

2016 Geomizer™ modeling software and treatment solutions, developed to ensure maximum brine flow for efficient geothermal power generation.

2016 Ecolab is one of just 24 organizations recognized as Partner of the Year by the U.S. Environmental Protection Agency for advancing the goal of chemical safety.

2016 New chemistry and cooling system control programs allowing the use of reclaimed or repurposed water in industrial cooling systems. Products for cooling systems control reduce customers' total cost of operation by keeping critical heat exchangers clean for improved heat transfer, thus saving energy and reducing corrosion and enabling customers to more efficiently use impaired water for cost savings or to overcome water constraints.

2017 Refined Knowledge Program™, a digital platform that streamlines data collected by multiple sources within an oil refinery and helps clarify where issues are occurring that could affect operational efficiency. Customers, and Ecolab's Nalco Champion field engineers, check the program's website to see operational risks.

2017 enVision™ 365 Process Intelligence, a digital platform, enables commercial laundry managers to monitor critical washing parameters 365 days per year and gain valuable insights into the washing process. These insights enable better control of textile cleaning quality while reducing operating costs and improving plant productivity.

2017 SMARTPOWER™, a warewashing program, combines innovative chemistry, personal service and real-time insights into dishmachine performance. The comprehensive program helps restaurants achieve sparkling dishware with just one pass through the machine. Benefits include cleaner dishes free of protein build-up, water and energy savings and quicker resolution of dishmachine issues.

2017 Ultrasil™ MembraneCARE 2.0, a program of cleaners – one alkaline, one acid cleaner and one enzyme – that effectively removes fats and other substances from ultrafine membranes used in dairy and food processing. The program helps improve membrane performance, and extends membrane life, reduces water use and energy consumption and shortens cleaning cycle times so plants can return to production sooner.

2017 New disinfectant treatments are launched to make building water systems safer and protect people from waterborne illnesses, such as Legionnaires' disease.

2017 Technologies that protect steel industry blast furnace top gas pressure recovery turbines from scale and corrosion build-up, positively impacting utilization of this key customer asset.
2018 MARKETGUARD™ 365, a digital app, collects and consolidates food safety data – from temperature logs, sanitation checks and pest elimination reports to Health Department violations – for grocery and other food retailers. Store- and corporate-level food safety managers gain real-time insights into compliance with food safety protocols within their stores.
2018 Health Department Intelligence (HDI) platform, a technology that helps foodservice operators better understand their health inspection results, improve health inspection performance, and better manage food safety risks across multiple sites. With Ecolab HDI, operators can proactively identify where potential health department violations can be avoided.
2018 Hand Hygiene Compliance Monitoring System, a digital system that alerts patients and healthcare providers if health care workers have not sanitized or washed their hands. The technology helps fight the spread of hospital-acquired infections.
2018 Ecolab is named to Forbes' list of The World's 100 Most Innovative Companies. This is the fifth time Ecolab has been named to the World's Most Innovative Companies list since its inception in 2011.
2018 AdvaCare™ Disinfectant, the first laundry disinfectant with claims against Clostridium difficile. The disinfectant helps controlling Clostridium difficile, one of the leading causes of healthcare-associated infections (HAIs).
2018 OMNI, a comprehensive program that combines real-time monitoring, advanced predictive analytics, and 24/7 expert support. OMNI combines chemistry, 3D TRASAR™ Technology, sensors and data analytics to help power and chemical producers improve production efficiency, capture energy savings and avoid production outages.
2018 The new Quantitative Polymerase Chain Reaction (qPCR) test, a molecular-based test for Legionella that provides results 14-times faster than current culture testing methods at the time. The test helps building and cooling tower operators manage public health risks from the waterborne pathogen.
2019 Smart Water Navigator, a free online tool to help businesses throughout the world improve water management at their facilities in the face of growing global water scarcity. It shows companies how their individual facilities are performing compared to industry-leading water management practices.
2019 CoreTemp™ Fluid Management System, technology to automatically and accurately track irrigation fluid volume during surgery. This technology provides advanced measurement capabilities to help support improved patient health and address the increasing need for process and cost efficiencies in the healthcare industry.
2019 KAY® PROTECT, automates food safety checklists at quick-service restaurants and integrates data across resources such as food safety audits, health department inspections, and cleaning and sanitation product use. This streamlines complex restaurant processes and protects against unique sanitation challenges, while speeding operations and improving data visibility and accuracy.
2019 LegionGuard LG25, an on-site generated chlorine dioxide product shown to reduce the bacteria in water that causes Legionnaires' disease. It provides supplemental treatment for potable (drinking) water and is the first product of its kind to be registered by the U.S. Environmental Protection Agency (EPA) for this use.
2019 ECOLAB3D, a cloud-based digital platform that collects data from Ecolab's process control and monitoring systems, automation tools and other systems to create real-time alerts, optimize plant operations and benchmark performance across company sites. The platform helps businesses improve asset performance and reduce water use.
2019 Ecolab introduces more than 100 innovations. 2019 innovation pipeline is projected to deliver more than $1.3 billion in annual revenue in five years and is our sixth consecutive innovation pipeline of $1 billion or more.
2020 Ecolab Science Certified program, a comprehensive, science-based solution for clean and safe environments. The program combines advanced chemistry with new public health training and audit verification to deliver a high standard of cleanliness for public health and food safety required due to the COVID-19 pandemic.
2020 Ecolab continues to build suite of products proven effective against SARS-COV-2, the virus that causes COVID-19, including AdvaCare™ laundry disinfectant, Peroxide Multi Surface Cleaner and Disinfectant for use with electrostatic spray technology and Sink & Surface Cleaner Sanitizer, the first product registered by the EPA to kill COVID-19 virus in just 15 seconds.